Stranded workers flown off North Sea rig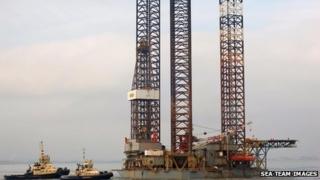 Workers stranded on a gas rig in the North Sea have been flown home after a broken-down helicopter was fixed.
More than 90 people had been stranded on the Ensco 80 rig, 100 miles (160km) off the Norfolk coast, since Monday after the aircraft developed a fault.
Bond Offshore Helicopters said engineers had now fitted a part to the AgustaWestland AW139 helicopter.
Seventy-five people were flown from the rig to Norwich Airport on Thursday in a series of flights, the company said.
The rig, owned by Ensco and operated by Perenco, is currently positioned 115 miles (185km) north-east of Norwich.
A spokesman for Ensco said: "The helicopter has been repaired, so we were able to catch up on our crew changes.
"Everything's back to normal."