Illegal immigrants found in UK-bound lorries at Calais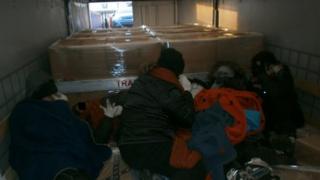 Twenty four would-be illegal immigrants were caught trying to enter the UK via Kent in three lorries bound for number of destinations across England.
Twelve Albanian nationals were found by UK Border Force officers at Calais in the early hours of Wednesday in a lorry heading to Peterborough.
Six more Albanians were discovered later that day in a vehicle bound for Barton-upon-Humber, Lincolnshire.
Officers also found Afghan stowaways in a lorry bound for Lancashire.
The 24 people were handed to French border police and the lorries were allowed to use the Calais to Dover crossing.
Paul Morgan, director of Border Force South East and Europe, said: "This incident shows why we base Border Force staff in France - to stop would-be illegal immigrants before they reach our shores.
The Border Force said seven stowaways were also discovered in a Republic of Ireland-bound lorry on Wednesday at Calais.