'Yorkshire beauty' to inspire Tour de France cyclists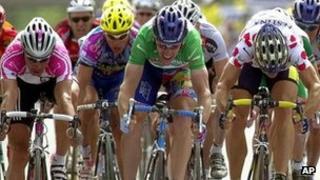 Yorkshire's landscape will inspire riders taking part in the Tour de France in 2014, top names in the cycling world have said.
Yorkshire will host the Tour on 5 and 6 July, with the race's Grand Depart taking place in Leeds.
Tour boss Christian Prudhomme praised Yorkshire's "outstanding beauty".
"It is a region with breathtaking landscapes whose terrains offer sprinters and attackers the opportunity to express themselves," he said.
"Yorkshire is a passionate county of proud people and I am sure they will guarantee that their Grand Depart raises the bar in terms of expectations for all future hosts to come."
'Beautiful scenery'
The Tour will head through Yorkshire on 5 and 6 July, before moving south for a third stage, finishing in London.
Yorkshire beat off the challenge of bids from Florence and Edinburgh to host the prestigious event.
Brian Robinson, from Huddersfield, the first Briton to finish the race and the first, in 1958, to complete a stage of the Tour, said competitors could not fail to be impressed by Yorkshire.
"It's the biggest sporting event in the world so that's got to be something - to see it on our roads," he said.
"Especially in North Yorkshire we have such beautiful scenery and I'm sure even the riders - though they won't have a lot of time to look around at see the scenery - will enjoy it."
'Passionate county'
Julian Smith, Conservative MP for Skipton and Ripon, said hosting the Tour de France was a "fantastic opportunity" to showcase Yorkshire to the world.
"With a global audience of over two billion people watching the Tour de France every year, the backdrop is vital," said Mr Smith.
"In Yorkshire you could not ask for more. Some of the most iconic roads and scenery in the country, if not the world, are here."
The last time the Tour visited England was in 2007 when it raced from London to Kent. About two million people turned out over two days of the race.
Gary Verity, from the tourism organisation Welcome to Yorkshire, said he expected "millions" of people to line the route throughout the county.
"Yorkshire is a passionate county of proud people," he said.
Full details of the route will be announced at a news conference in Leeds and Paris on 17 January.