The superhero battling the killer shrimp in our waters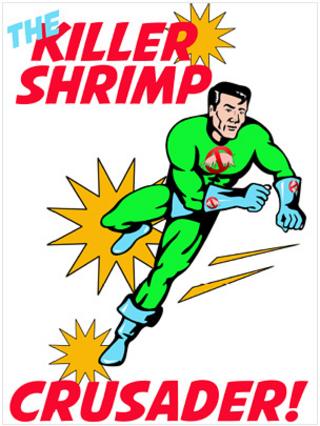 In checked shirt and chinos, he does not look much like a superhero, but to friends and colleagues, Will Burchnall is The Killer Shrimp Crusader.
His mission? To halt the spread of a dangerous invader threatening to wreak havoc with our native flora and fauna.
As wetland biosecurity officer for the Broads Authority, he has a number of adversaries, but none more dangerous than Dikerogammarus villosus, also known as the "killer shrimp".
These creatures measure up to 30mm (1.2in) long but are having an impact far beyond their modest size.
"They are pretty formidable. If you wanted to create the perfect invader, they would come pretty close," said Mr Burchnall.
"They grow quickly, they breed quickly, they eat all sorts of things, they are aggressive and they can tolerate awful conditions.
"They will have a go at anything that gets near them. They have an attitude."
Originating from Eastern Europe, they were first discovered in the UK at Grafham Water in Cambridgeshire in September 2010.
Shortly afterwards, they were found in Cardiff Bay and Eglyws Nunydd near Port Talbot, south Wales.
In March 2012 they were discovered in Barton Broad, Norfolk, and have since spread to the River Ant and Wroxham Broad.
"It seems they have moved in - and they are angry," said Mr Burchnall.
"Now they're in the Broads it's almost impossible to get them out."
The shrimp were originally found in the Black Sea and Caspian Sea regions and used the River Danube and its tributaries to expand their territory.
How they managed to disperse is not known for certain, but they're thought to have attached themselves to the hulls of ships or been contained in ballast water.
They are believed to have found their way into Grafham Water and then Barton Broad via a boat, windsurfer or even angling gear.
The killer shrimp's discovery has alarmed conservationists. The creatures feed on damselflies, small fish, water boatmen and native freshwater shrimp, putting water quality in jeopardy and threatening local ecosystems.
Food for fish
Native shrimp help improve water quality by breaking down leaf litter, but the foreign invaders have the opposite effect, eating many of the species that keep water clean and clear.
At Grafham Water, the shrimp are so plentiful that anglers are coming out of the water with dozens of them attached to their waders.
Fly-fishermen have even begun tying special flies to mimic the shrimp, which are a new source of food for fish living in the reservoir.
Ciaran Nelson, of Anglian Water, which manages Grafham Water, said: "Our job is to try to prevent the spread of the shrimp.
"As custodians of the environment, we take our responsibilities very seriously.
"We've helped the sailing club there install a facility to jet-wash their boats, for example. People have been great about it."
He said he did not think the shrimp were putting off people using the reservoir for recreation, and that there was no way of them finding their way into the drinking water supply.
Back in the Broads, there are fears that if the shrimp's spread is not contained, water quality could suffer, with disastrous effects on tourism.
"Murky, cloudy water isn't good from an environmental or a leisure point of view," said Mr Burchnall.
'Worse than rabbits'
"We would end up with areas of the Broads where people didn't want to go.
"You'd end up with shrimp and very little else: no water fleas, damselflies, water boatmen or water hoglice, simply because the shrimp use them as a food source or they are out-competed."
One of the major problems is the speed at which the shrimp breed.
"It's worse than rabbits, the rate they can multiply," said Mr Burchnall.
"They have the ability to reproduce at an astronomical rate. Their young reproduce very early in life, far earlier than our native shrimp."
Killing the shrimp is not an option because chemical and biological methods are not only expensive, they would take out native species.
"Now it's a case of making sure people don't transport them from place to place so we can contain it," said Mr Burchnall.
'What's the point?'
The shrimp can live outside the water in damp conditions - for instance, in waders or fishing nets - for up to 14 days, but they cannot tolerate dry conditions.
That is why "Check, Clean, Dry" has become the mantra in preventing their spread.
Watersports enthusiasts, boat-users and anglers are being encouraged to make sure they check their kit, wash it and and dry it out after using waters where the shrimp are present.
Mr Burchnall said the message was beginning to get through.
"Some people say 'What's the point? They are here - there's nothing we can do about it.'
"There are people who already do some form of Check, Clean, Dry. Anything is better than nothing at all."
The Broads Authority is particular anxious to avoid the shrimp spreading to the Trinity Broads, near Great Yarmouth.
These contain some of the Broads' most sensitive sites and an influx of the new invader could threaten their delicate balance.
Fortunately, they are isolated from the rest of the Broads network.
"Providing the general public are conscientious and follow Check, Clean, Dry, there shouldn't be any way the shrimp can get into Trinity," said Mr Burchnall.
He is amused by his nickname The Killer Shrimp Crusader, and has even adopted it as his Twitter handle.
He will admit to a grudging respect for his foe.
"They travel across the seas in foul water in the bilge tanks of ships," he said.
"They're pretty hardy."
'Stuck with them'
But if containment is the best he can hope for, is he not fighting a losing battle?
"I don't think so," he said.
"Yes, we're stuck with them; no, we're not going to be able to get rid of them and the long-term effects are unknown.
"But the awareness we're generating from the shrimp and the promotion of Check, Clean, Dry is having a real effect on public knowledge and stopping them moving them around.
"A gentlemanly draw is what I think we're going to see. We will do our best to keep them out of places but they will multiply where they are.
"We hope they will find their own little niche within the ecosystem."