Church charity box conman David Hughes jailed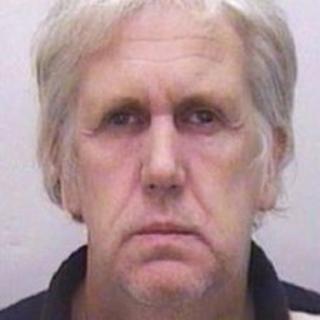 A man has been jailed for stealing from charity boxes and not paying for B&B accommodation in south-west England.
David Hughes, 56, a former aeronautical engineer of no fixed address, admitted multiple offences relating to theft and burglary.
Exeter Crown Court heard he targeted vicars before stealing their property.
Hughes said he would pay for accommodation when he had money but often gambled it away. He was jailed for 30 months.
The former engineer admitted five offences of making off without payment, the theft of 30 charity boxes, three further thefts, burglary, going equipped for theft and six other offences of bilking.
Communion wine
The court heard Hughes would stay at B&Bs but leave without paying or ask clergymen to find parishioners who were willing to put him up before stealing their property.
He was once found to have got drunk on three bottles of communion wine at one church.
Churches in places including Barnstaple, Crediton and Penzance reported having property stolen by Hughes and guest houses in Yelverton, South Molton, Okehampton, Camelford and Tintagel said they were swindled by him.
The court heard Hughes was arrested with a coat hanger which had sticky tape on its tip which he used to fish banknotes out of collecting boxes.
Joss Ticehurst, for the defendant, said Hughes had lost his job and home in the late 1980s because of his gambling addiction.
Mr Ticehurst said Hughes had always intended to pay when booking into accommodation but if he lost money gambling he would flee.
The offences took place between August 2007 and October 2012.