Whitchurch toll bridge tax dispute: No VAT rebate to come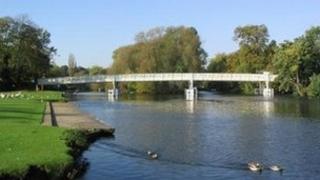 A High Court judge has ruled owners of a historic bridge across the River Thames will not qualify for a £700,000 VAT rebate on its reconstruction.
Whitchurch toll bridge, between Oxfordshire and Berkshire, needs to be restored at a cost of about £4m.
The Grade II listed structure was granted its own Act of Parliament in 1792 stating it should not be subject to any "rate, tax or duty whatsoever".
But a judge ruled a specific exemption would be required for it to continue.
The bridge was originally built by 10 local dignitaries using their own funds.
Reconstructed in 1902, today it carries about 6,000 vehicles a day with a 40p toll for cars.
Immunity from taxation
Geoff Weir, from The Whitchurch Bridge Company, said: "We're disappointed as it means more tolls will have to be collected to pay for the reconstruction.
"We will be looking carefully at the judgement and consulting with our legal advisers. But, our current plans for the reconstruction are based on paying the VAT, meaning there won't be any immediate toll increase.
"It does mean that the next increase will be sooner than expected."
The 1792 Act granted the bridge perpetual immunity from taxation.
Treasury lawyers argued if the company was exempt from all forms of taxation it would also include national insurance contributions and PAYE for employees, vehicle excise duty and other levies.
Reconstruction is expected to start in August with the bridge due to reopen in May 2014.