SAS sale: RSM Bob Lilley's medals sell for £78,000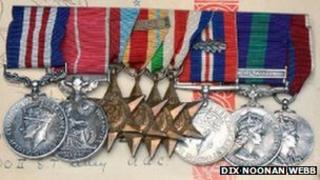 Medals awarded to one of the original members of the SAS have sold for £78,000.
Bob Lilley, from Wolverhampton, served as a sergeant in the SAS when it was first formed in 1941 in North Africa.
He was awarded the Military Medal in 1942 for his bravery during a raid on enemy airfields in Libya. He rose to the rank of Regimental Sergeant Major and served in the SAS until 1958.
Auctioneers Dix Noonan Webb said the medals were expected to raise £50,000.
'Good home'
The medals on sale include the Military Medal, British Empire Medal, Africa Star, Italy Star, France Star and the Germany Star.
Mr Lilley was awarded the British Empire Medal for his services in 1952. He died in 1981, aged 67.
Christopher Hill, from Dix Noonan Webb, said: "These medals have always been kept in his family, until now.
"It has been decided to find [the collection] a good home so the children can use it for their inheritance."