Spitfire moving to Duxford from London's Imperial War Museum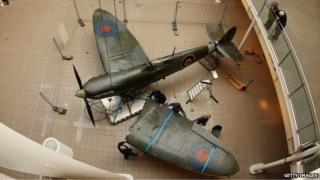 A Spitfire used in the Battle of Britain is being dismantled and moved by lorry to a temporary new home in Cambridgeshire.
The Mark IA fighter plane was taken down from the Imperial War Museum in south London on Wednesday.
It is being moved to the Imperial War Museum in Duxford while a £35m revamp takes place at the Lambeth attraction.
A Duxford spokeswoman said it was "very exciting" to get the plane, which will be renovated and go on public display.
"It's a major project being conducted in London to refurbish the museum for the World War I centenary," the spokeswoman said.
57 operations
"It gives people in Cambridgeshire the chance to see the Spitfire and many other objects which can normally only be seen in London, which is very exciting.
"While here, a lot of the items will undergo conservation work so they can be appreciated by future generations."
The museum said the Spitfire was used by No. 609 West Riding Squadron which was stationed at Middle Wallop in Hampshire in July 1940.
It was flown by 13 different pilots on 57 operations during the Battle of Britain and it destroyed or damaged eight German aircraft.
About 30 other artefacts have already arrived at Duxford from Lambeth, including a North American P-51 Mustang plane.
The Imperial War Museum in London will be closed from 2 January until 1 July while the renovation takes place.
The Spitfire is expected to move back to the capital and be placed in the museum's new atrium in the summer of 2014.