Red Arrows' Jon Egging 'almost passed out' before crash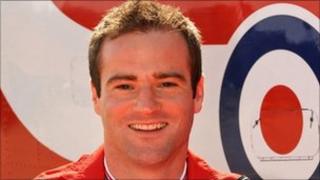 A Red Arrows pilot was probably close to unconsciousness before his plane crashed, an inquest has concluded.
Jon Egging, 33, from Rutland, died when his Hawk T1 jet crashed following a display at the Bournemouth Air Festival, in August last year.
An inquest heard Flt Lt Egging may have succumbed to G-force impairment before attempting to correct his course in the moments before the impact.
The coroner in Bournemouth recorded a verdict of accidental death.
The court heard a service inquiry, led by Wing Cdr Mark Rodden, concluded "A-loc" - almost loss of consciousness due to G-force - was the likely cause of the crash.
Wing Cdr Rodden told the inquest inadequate G-force awareness was also a possible contributory factor.
The inquest, at Bournemouth Coroner's Court, was told Flt Lt Egging was experiencing a maximum 6.3 G-force - 6.3 times the force of gravity - as he broke formation before he was due to land at Bournemouth Airport.
The inquiry ruled out any technical or mechanical fault and said flying 70ft (21m) higher could have made the difference between landing the jet and the crash.
Reds Squadron Leader Ben Murphy said the team had changed its pre-landing manoeuvre from a "looping break" to a faster "flat break" after learning a Spitfire, which formed part of the Battle of Britain Memorial Flight, needed to take off to avoid overheating.
Earlier, the pilot's team-mate Flt Lt Chris Lyndon-Smith told the court the manoeuvre, involving banking to 85 degrees then gaining height to about 500m, was one they performed regularly.
'Check height'
The court was shown a simulation created using data gathered from the planes flying on the day. It showed Flt Lt Egging completing the first part of the move then losing height before crashing at a shallow angle.
Witnessing the jet descending, Flt Lt Lyndon-Smith said he shouted "4, check height" over the radio to his colleague, whose call sign was Red 4.
When asked if he saw a reaction, he said: "It's difficult to tell, but from what I saw, I don't think I saw one, and the video appears to show the same, although there may have been a tiny reaction right at the end."
He explained the use of g-suits, designed to prevent pilots blacking out during manoeuvres.
When asked by the coroner whether Flt Lt Egging's jet looked to be in control, he said: "An aircraft can be out of control but be going in a completely straight line.
"From what I could see at that time, he was not in control of the aircraft at that time, although there was a slight movement right at the end on the video."
A service inquiry report made 42 recommendations including more regular maintenance of g-suits, improving high G training and carrying out some manoeuvres at a higher altitude.
Flt Lt Egging's wife, Dr Emma Egging, who gave evidence first, said her husband was well and in good spirits before the display, which she watched with the other pilots' wives and close friends.
Her husband, she said, missed a flight earlier in the summer because of neck and back pain and had received treatment from MoD physios and a private osteopath.
His neck was giving him no trouble on the day, although he had taken ibuprofen for a sore back in the morning, she said.
Concluding the hearing, coroner Sheriff Payne said Flt Lt Egging had been killed instantly. He said the preceding manoeuvre was probably the highest and most sustained of the day in terms of G-force but said flying at a higher altitude "may not have made a difference".