South West advice service redundancies expected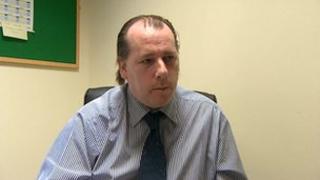 More than 100 redundancies are expected at advice services in the South West, including the Citizens Advice Bureau (CAB), the BBC has learned.
The cuts are being made because a Legal Aid contract will expire in April 2013 and will not be renewed.
Regionally, it is believed 112 people will lose their jobs, including five advocates at the South Hams CAB office.
The Ministry of Justice (MoJ) said its funds were "not limitless" and it would help the "most serious cases".
Angela Barnard, from Totnes, who was made redundant 18 months ago, had her benefits suspended in September and has relied on the CAB to help deal with her appeal.
She said: "I've got no money. It's scary, really very scary indeed. I can pay the rent this month but I don't know what I'm going to do next month.
"It's increasingly intimidating. This is the worse situation I think I've ever faced and it really is de-humanising."
Nick Dilworth, a South Hams CAB advocate who will be redundant in April, said, despite the funding cuts, the number of cases was increasing.
'Tsunami of cases'
He said: "There was an explosion of appeals earlier on in the year I would now classify that as an absolute tsunami as far as the employment support allowance is concerned.
"Already the increases in the appeal load are reported to be up by 40% nationally on last year so it can only get worse."
The MoJ said the taxpayer could no longer afford to pay and instead the Big Lottery Fund had launched a £65m budget to help support advice services across England.
The Legal Services Commission provides the Legal Aid contract to 43 agencies in the South West, including the CAB, Shelter, and solicitors.
In 2011, the CAB in the South West said it helped people with 211,000 benefit problems and more than 181,000 debt problems.