Barnsley ballerina's new life at Bolshoi Ballet Academy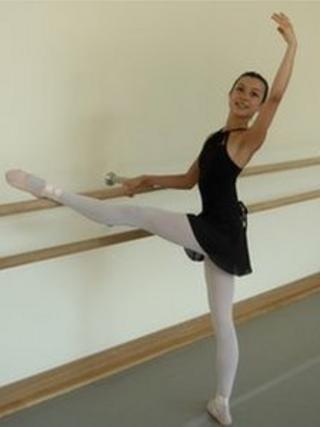 In August, a Barnsley teenager nervously left home to join some of the world's best dancers after winning a place at the Bolshoi Ballet Academy almost 2,000 miles away in Moscow.
Since then, Tala Lee-Turton, 16, has met her ballet idol, learned to speak Russian and embarked on a new way of life.
Tala was one of the elite few to be accepted at the school and only the ninth British dancer ever to have been offered the chance in its 239-year history.
She is now four months into a four-year training programme at the prestigious academy.
Tala said: "When I first arrived there was certainly a slightly overwhelming feeling where I almost felt a little numb."
She added: "The best thing about the Bolshoi is simply the amazing opportunity to learn in every form of life and dance.
"The worst thing is the cold - sometimes I can't feel my hands when I'm shopping."
Tala's life at the academy is hard work.
Apart from Sundays, she attends classes daily with technique class starting at 09:00 each day.
Her weekly timetable is made up of classes in gymnastics, character, historical dance, make-up, modern dance, acting, repertoire and pointe work - the act of standing on the tips of the toes.
In addition she must attend a Russian language class every day.
Tala said: "It is strenuous but the pace of the weeks are so fast because I enjoy my training so much that there's hardly time to acknowledge this."
A highlight of Tala's time so far at the dance company was seeing for the first time the historic Bolshoi Theatre.
Fundraising challenge
"It is definitely the most majestic and regal looking theatre I've ever been in," she said.
"The colour scheme is red and gold with real chairs, not seats, attached to the floor.
"I would love to dance at the Bolshoi Theatre but there's a lot of hard work that needs to be done first."
Meeting the Bolshoi Ballet's principal dancer Svetlana Zakharova was another stand out moment for the Barnsley teenager.
Tala said she had always considered the dancer a "huge idol".
However, Tala's journey to achieving her dream of dancing at the Bolshoi has not been easy.
Her first year was only made possible by donations and the tireless fundraising efforts of her mother Sara Turton, who had to raise £15,000 towards the £20,000 costs.
A single parent, Ms Turton must continue to raise the same amount for each of her daughter's remaining years there.
Ms Turton said: "I am so proud that Tala has settled so well. Not every 16-year-old would rise to this kind of challenge and work so hard to make their dream a reality.
"We are of course eternally grateful to those who gave time and donations to help fund Tala's training at the academy for the first year.
"It is vital that we are able to raise further funds to enable Tala to continue her training in this world-class environment."