'No drought in south-east England' for next two years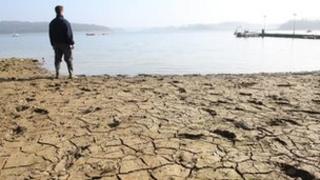 Recent rainfall has meant south-east England has enough water to get through two dry winters without a drought, the Environment Agency (EA) has said.
It comes at the end of a year when water firms imposed hosepipe bans on 20 million customers.
But the agency said summer and winter rainfall had restored water levels.
It meant the South East could get through two winters of 80% of usual rainfall, although other parts of England and Wales were more vulnerable.
For instance, if the north west of England and Wales saw 80% of usual rainfall for the next six months it could have a more severe impact, particularly for the environment and farmers, the EA said.
Looking further ahead however and the agency warned climate change forecasts could mean severe droughts becoming more common starting from the 2030s.
'Topsy-turvy weather'
But the wettest summer in 100 years, according to the Met Office, and further recent rain has allayed fears in the short-term.
Trevor Bishop, head of water resources at the EA, said another dry winter would have been disastrous.
"We would certainly be worse than 1976.
"There would have been widespread environmental impact, a lot of iconic chalk streams would have run dry and we would have had to move fish to preserve them."
The drought, which affected large parts of England, led to the then Environment Secretary Caroline Spelman warning standpipes could be needed in the streets.
But the winter rainfall, which is so important as it tops up groundwater and reservoir levels, has put a different complexion on the situation.
Worcestershire farmer Stephen Watkins, who suffered to cope with a lack of rainfall earlier in the year before being flooded, welcomed news that a drought in the next few years was unlikely.
"It just makes budgeting and planning for the future easier," he said.
"The general weather pattern this year has been very costly.
"It's been very difficult for the vegetable crops, we've lost some completely. It's the extremes we don't want."
Thames Water is one of the UK's biggest water companies and serves 14 million people across London, Berkshire, Buckinghamshire, Gloucestershire, Hampshire, Kent, Oxfordshire, Surrey and Wiltshire.
'Difficult to predict'
It said customers still needed to be careful on their use of water.
"In theory we are never more than 18 months of very dry weather away from a drought," a spokesman said.
"The topsy-turvy British weather is, above all, unpredictable."
The Environment Agency now has plans to introduce a drought warning system similar to current weather warnings.
But the long-term threat is unlikely to ever go away, Mr Bishop warned.
"It's really difficult to predict but the climate change people tell us these types of events are likely to get more common.
"We are planning for more severe droughts that we have seen over last 100 years."
How the drought spread