Margaret Thatcher: A Japanese icon?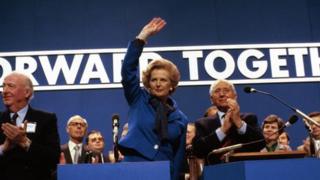 While former Prime Minister Margaret Thatcher is a divisive figure in the UK, many people in Japan regard her as an icon. So why are they fascinated with the Iron Lady?
Grantham has no tourist attractions dedicated to its most famous daughter but that does not stop visitors from around the world coming to see where Margaret Thatcher grew up.
Japanese people regularly visit the premises where her father once ran his grocery shop in the Lincolnshire town, now occupied by a natural health and chiropractic centre.
"It is not uncommon to see Japanese tourists having photographs taken outside the building," said Sandra Good, who owns the business.
"It is rare that tourists venture inside but my staff know that they are welcome to show interested parties around and to show them her bedroom if it is free and there is time."
Grantham Museum, where there is a section dedicated to Baroness Thatcher, is also popular with Japanese tourists.
"She's huge," said Jayne Robb, the museum's general manager.
"She's held up as this goddess in a way so far as 20th Century political history goes."
She is so popular with international visitors - particularly those from Japan - that the museum is in the process of fitting its displays with QR codes, a type of barcode.
These can be scanned with mobile phones and the text can then be translated into Japanese or other languages.
So why do people say they have come to the museum?
"From what we can gather, obviously she's a strong, powerful woman, and that's quite a novelty still in that Asian culture," said Ms Robb.
"They are just fascinated by her for lots of reasons but predominantly I think because she was a woman in a man's world, and that's a very rare thing in Asian culture."
'Sheer hard work'
Her rise to power from relatively humble beginnings also makes her interesting to Japanese visitors, said Ms Robb.
"She literally was a grocer's daughter from a humble little market town corner grocery shop," she said.
"I think they find it particularly fascinating; rising from the ranks, so to speak.
"It's very much in keeping with their culture, the fascination with her, because she didn't come from some dynasty, she got to the top of her tree through sheer hard work."
In the UK, however, Baroness Thatcher remains an inflammatory figure.
Some still remember her as the Milk Snatcher for her decision - before she was even prime minister - to end universal free school milk.
In Chesterfield, a group of former female coal workers calling themselves the Real Iron Ladies picketed a cinema when The Iron Lady film was released a year ago.
In September there were reports that T-shirts to celebrate the death of Baroness Thatcher were sold at a union conference.
This shocked readers of the Japanese newspaper Asahi Shimbun, according to journalist Wataru Sawamura.
"I understand that Thatcher is a sort of controversial figure but probably most of Japanese (people) do not know except British politics experts," said Mr Sawamura, who is the newspaper's European editor and London bureau chief.
"I do not think that our readers are familiar with her detailed policies and personal life.
"But I am sure she is one of the most famous politicians in Europe and perceived very favourably."
He said there was a very simple reason that the less popular of Baroness Thatcher's policies had permeated into Japanese opinion.
"Japanese people were not affected by her (policies)," he said.
Kesteven and Grantham Girls' School, Baroness Thatcher's former school, has an exchange programme with a school in Fukushima and pupils from there visit Grantham Museum each year.
Ms Robb said the Japanese girls and boys are fascinated about what inspired and motivated the young Margaret Roberts.
"I think, again, this fascination is because she has almost achieved mythological status now," she said.
"It's 25 or 30 years since she was in power, so the youngsters have no memory of some of the darker aspects.
"They just see this incredibly tenacious, substantial woman achieving.
"They are always asking me questions. I think they want to know what she was like as a child.
"They want to draw from those qualities to create their own success."
'Eighties icon'
Mr Sawamura recently visited Grantham himself to write a column for his newspaper, which sells millions of copies every day.
He said there were further reasons why Japanese people look up to Baroness Thatcher.
"Japanese population is looking for having strong leadership after prolonged political turmoil. We have (had) different prime ministers almost every year since 2006," he said.
"Also we are gradually fed up with a sort of populism. There seems to be some shift of opinion among Japanese.
"They prefer the political figure who might seek unpopular politics but are firm on political belief rather than someone who pleases electorates but deliver nothing.
"That is why if you ask Japanese intellectuals, probably they give you a positive view on Thatcher."
Charlie Gilkes is one of two founders of Maggie's, a members' nightclub in Chelsea where people can hear Baroness Thatcher's famous speeches in the toilets and drink cocktails from cups shaped like her head.
Mr Gilkes said the club gets a lot of international visitors, including people from Japan.
But he thinks visitors are attracted because of her status as an 80s icon, rather than her divisive politics.
"The club is a 1980s club and we were trying to find someone who represented that decade," said Mr Gilkes.
"For us, there was no-one that epitomised that decade more appropriately than Margaret Thatcher."