'Unprecedented' haul of counterfeit goods in Birmingham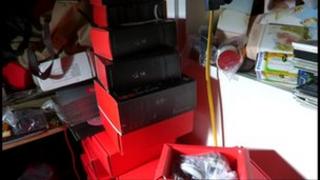 An "unprecedented" haul of counterfeit goods has been seized from a storage unit in Birmingham, according to trading standards officers.
The haul filled seven removal vans and included fake branded headphones and clothing.
The operation was carried out after the seizure of counterfeit Beats by Dr Dre headphones at markets in Staffordshire.
Pat Corfield, of Staffordshire County Council, said a "major supply route" of counterfeit goods had been "smashed".
If the goods had been real they would have been worth "upwards of £10m" Mr Corfield said.
All of the seized goods have been transferred to a secure storage unit, a spokesman said.
Mr Corfield said: "The scale of this seizure is unprecedented and we believe it may be the biggest single seizure of counterfeit goods by a trading standards team anywhere in the country and certainly here in the Midlands."