Helicopter fault leaves workers stuck on North Sea rig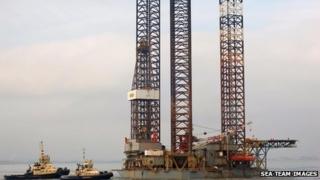 More than 90 workers have been stranded on a gas rig in the North Sea for two days after a helicopter broke down.
The aircraft has been on the Ensco 80 rig, 100 miles off the Norfolk coast, since Monday afternoon.
Operator Bond said it developed a technical problem and engineers were awaiting delivery of a part.
Rig owner Ensco said there were 94 people on board the rig, four over its capacity, but there were enough lifeboats for 200 people.
An Ensco spokesman said the helicopter had been at the rig on a routine crew-change flight when it developed technical problems.
"The pilots go through safety checks before they leave and obviously discovered a problem," he said.
'Used to it'
The helicopter pilots were now on board the rig, he added.
"There are 94 people on there. Our maximum persons-on-board is 90 but there are extenuating circumstances.
"We hope to resolve the situation as soon as we can."
He said there were enough supplies on board and that offshore workers were used to being stuck on rigs, sometimes for days on end, due to poor weather conditions.
Bond Offshore Helicopters confirmed the aircraft, an AgustaWestland AW139, had flown to the rig from Norwich Airport and developed a technical problem once it had landed.
The company said the rig was 115 miles north-north-east of Norwich.
"Engineers were dispatched and are currently examining the aircraft," it said in a statement.
"Once the relevant part has been delivered and fitted, the aircraft will be returned to normal service."
The rig is operated by Perenco, which has declined to comment.