Chicken roundabout: Plaque for Bungay's 'chicken man'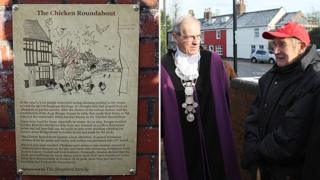 A plaque has been unveiled to mark the work of a Suffolk man who for years looked after dozens of chickens on a roundabout.
Gordon Knowles, from Bungay, tended to the birds that roamed on the "chicken roundabout" in Ditchingham, Norfolk, for decades.
A plaque was revealed on Bungay's Falcon Bridge and a ceremony held for Mr Knowles, who is in his 80s.
The roundabout once had 300 chickens on it but the last were moved in 2010.
The birds, which lived around the A143-B1332 roundabout, were thought to have escaped from nearby allotments decades ago.
'Living legend'
Numbers began to dwindle in the last 10 years, prompting an RSPCA investigation into whether they had been stolen or harmed.
With his wheelbarrow full of corn, Mr Knowles fed and looked after the birds for nearly 20 years until the last half dozen were handed in to an animal charity.
Mr Knowles said: "I feel very, very honoured indeed. I always made sure I fed them first and then I had the rest of the day to myself."
Bungay town councillor Deirdre Shepherd said: "Not often have I had the privilege of standing next to a living legend.
"He looked after the birds for many years and even when he could not do it any more he made sure they were safe and passed them on.
"He's one of the last of the great eccentrics and we all need people like him to stop making life so boring."
In October a local campaign was started to create a permanent reminder of the chickens by building a series of statues on the roundabout.