Plain English Campaign awards 'Golden Bull' to NHS Norfolk & Waveney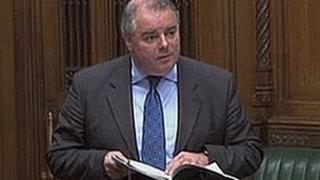 An NHS trust serving Norfolk and Suffolk has been given a Golden Bull "worst written nonsense" award by the Plain English Campaign.
NHS Norfolk and Waveney was nominated by Richard Bacon, South Norfolk MP, for a letter he received from them.
It spoke of "negative financial uplift" and "out-turn value".
The NHS trust said the letter had to describe complex issues and the award was a reminder of the importance of being clear and concise.
The Plain English Campaign has given out 10 Golden Bull awards this year - with others going to Transport for London, Enfield Council and NHS Tayside.
Mr Bacon said: "When an MP is talking gibberish in the Commons, other members can gently intervene to point this out.
"The Golden Bull Awards have allowed me to do the same for NHS Norfolk and Waveney after the stream of gobbledegook in their letter left me baffled.
Head in hands
"MPs write to a wide range of public sector bodies on behalf of our constituents and we want to be able to share the replies we receive - that is extremely difficult to do if we can't understand the letter ourselves."
Steve Jenner, from the Plain English Campaign, said: "If you ask for an explanation of fee structures in the NHS and that's what you get, you just think 'they don't want me to know'.
"Every year we wonder if things are getting better and then you see things like this and your head goes into your hands."
A spokesperson for NHS Norfolk and Waveney said: "This letter describes technical and complex issues, but perhaps we could have chosen words which were slightly easier to digest.
"Finance directors of most organisations which receive NHS money will be familiar with 'out-turns' and 'up-lifts'.
"While we won't be shouting about this award, our nomination does serve as an excellent reminder of why it is so important to be clear and concise."
The Plain English Campaign awards also include the Foot In Mouth award for poor spoken English, which it gave to US presidential candidate Mitt Romney.
It also gives out Pat On The Back awards for good communication, which went to BBC presenters Clare Balding and Professor Brian Cox.