Dave Sexton: Funeral of ex-Chelsea manager takes place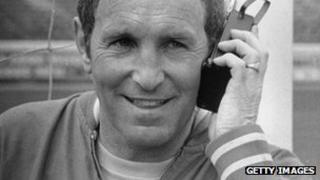 The funeral of former Chelsea and Manchester United manager Dave Sexton has taken place in Warwickshire.
Mr Sexton, who led Chelsea to victory in the 1970 FA Cup and the European Cup Winners' Cup in 1971, died last month aged 82.
During his career he also coached the England Under-21 team as well as Leyton Orient, QPR and Coventry City.
The mass was held earlier at St Francis of Assisi Catholic Church in Kenilworth.
'Wonderful man'
The former executive director of the Football Association, David Davies, tweeted that former United players Martin Buchan, Gordon McQueen and Joe Jordan were among those who attended the service.
The trio all played under Mr Sexton during his four-year spell at Old Trafford between 1977 and 1981.
Football journalist Norman Giller posted on Twitter that the funeral marked a "final fond farewell to Dave Sexton, the coach's coach".
Mr Giller said Sexton had stood for dignity and respect and did not have a "boastful bone in his body".
He added there had been an incredible turnout of the 1960s and 1970s football family and former footballer Frank McLintock delivered "an emotional eulogy".
Peter Withe, who played for Nottingham Forest, Aston Villa and England, tweeted: "What a wonderful memorial service for Dave Sexton today it was a great turnout which was expected for such a wonderful man."