Thames Valley PCC appoints David Carroll as deputy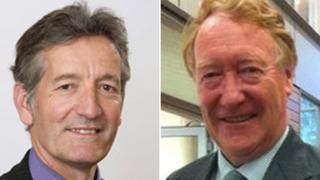 The Thames Valley's new police and crime commissioner (PCC) has appointed a county councillor as his deputy.
Conservative Anthony Stansfeld began overseeing the largest non-metropolitan police force two weeks ago.
He has now appointed fellow Tory David Carroll, from High Wycombe, as his second in charge.
Mr Carroll is a Buckinghamshire County Council and Wycombe District Council councillor and a former member of the Thames Valley Police Authority.
Mr Stansfeld, from Kintbury, West Berkshire, beat Labour's Tim Starkey last month in the first ever PCC elections.
Mr Starkey criticised Mr Stansfeld for not revealing his choice for deputy during the campaign.
He said: "People should have known who his choice was before voting.
"Failure to make this public was profoundly undemocratic."
But the new PCC said Mr Carroll was the best man for the job.
He added: "Mr Carroll has experience and knowledge of Buckinghamshire, as well as an understanding of policing, and will help me ensure that I do the best job possible during my time in office.
"Whilst Mr Carroll will be deputising for me as necessary across Thames Valley, I felt with my headquarters in Oxfordshire and my experience of Berkshire it was important I appointed someone with specific knowledge of Buckinghamshire to ensure I effectively represent the whole of Thames Valley."
Mr Carroll said: "I am honoured to have been offered this position and be able to support Mr Stansfeld in ensuring that all of the communities of Thames Valley have their policing and crime needs met."