Anuj Bidve killer Kiaran Stapleton tried to take chaplain hostage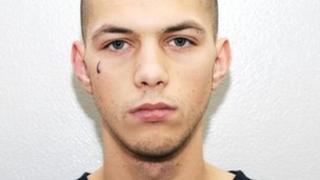 The man serving life for the murder of Indian student Anuj Bidve has attempted to take a prison chaplain hostage, the BBC understands.
Kiaran Stapleton, 21, who is serving a life sentence for Mr Bidve's murder, made the attempt at Full Sutton prison, York, on 30 November.
He was overpowered by prison guards after attacking the chaplain with a pen during worship.
A spokesman for the Prison Service said police had been notified.
Stapleton was sentenced to a minimum of 30 years in July for shooting Mr Bidve, 23, on 26 December 2011.
He had an appeal against his minimum tariff rejected by the Court of Appeal a week before the attack at the prison.
It is believed that the chaplain pressed a panic button as soon as Stapleton attacked him, notifying guards of the assault.
No-one was hurt in the incident.
Full Sutton prison is a maximum security prison for men in category A and category B and is described by the Ministry of Justice as housing "some of the most difficult and dangerous criminals in the country".