Can private companies make the Youth Contract deliver?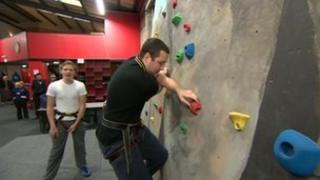 Every politician agrees that the scourge of youth unemployment needs to be tackled.
The government has put £1 billion into the Youth Contract to try to do just that.
One of the key tasks is being carried out by private companies.
The government has charged them with targeting the toughest cases - teenagers with no qualifications - and getting them into training or employment.
School leavers
One of those firms - Pertemps People Development - has allowed me access to some of its work.
This autumn it began a government contract to target school leavers in Teesside and Sunderland who have fallen through the net.
With no GCSEs, these are young people who have come out of formal education and have understandably failed to interest employers.
The first task though was finding the kind of teenagers who could easily just disappear off the radar.
Communities and estates were scoured and unusual approaches used to draw in young people who found school a turn-off.
Pertemps operations director David Ward said: "They don't go to youth clubs anymore. They are at home, they are gaming, they are on the streets.
"So you have to use innovative methods to find them, including activities with the local football club, sport, video gaming tournaments whatever we can do to engage with them."
Wake-up calls
But once those young people are brought on board, the next task is to make sure they stick with it.
When I arrived at Pertemps office in Stockton at 10am, the company's staff were in the middle of a round of wake-up calls to ensure their teenage clients were out of bed and ready to be picked up.
Their destination though was not a classroom or college, but a climbing wall in Middlesbrough.
But this wasn't just about tempting the young people to turn up - it was also about building their confidence.
Pertemps believes half the battle is raising the self-esteem of teenagers who in academic terms are flat-out failures.
So as they scale even the smallest heights of the climbing wall they're given massive encouragement.
Building confidence
All this though could look a little cosy - almost a reward for failure.
But Pertemps believes it can pass on more difficult messages at the same time as building confidence.
Mr Ward said: "There is a bit of tough love involved giving them honest answers that if they don't engage with programmes and training, you are more likely to be on benefits, more likely to be committing crime, the more likely their children will grow up on benefits.
"They are growing up into adults and they can then make their own decisions."
Another key part of the process is giving the young people role models they can follow.
Pertemps employs peer mentors to do that - former clients who through its training have got off the scrapheap.
The hope is they can relate to the trainees, and build the kind of trust that would never be possible with someone older.
Some of this does seem to be getting through to the young people I saw scaling the climbing wall.
Jock Wathey said: "I have no GCSEs, no qualifications and this is giving me a way forward, qualifications and possibly a job."
Dean Myers said: "I got no GCSEs, and didn't go to college because I wasn't the best student. I was badly-behaved but I have turned myself around, come here and grown up a bit."
Missed targets
But in all honesty, it's too early to say whether the approach is working. It may be another year before it can be properly assessed.
But the government certainly needs it to work.
It's also used private companies to help deliver its Work Programme - but so far that has failed to meet its targets.
In the North East only 3% of the people it aimed to help have ended up getting jobs.
The jury on the involvement of private welfare-to-work companies is out at the moment.
Critics will also say that any approach will fail until there are more jobs in the economy for people to fill.
One in five young people in the North East - or around 69,000 - were classed as Neets (not in education, employment and training) in August this year. That's a big problem to solve even in one region.
Pertemps though believes it can interest employers in young people who might otherwise have been written off.
And for the company's own sake, it better be right. It doesn't get paid unless it finds its young clients a job or training that will lead to one.