DUP concern over 'IRA supergrasses' raised with government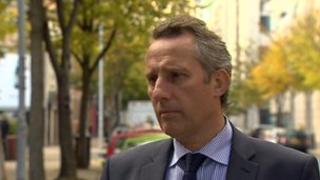 The case of an agent who infiltrated the IRA and was allegedly abandoned by the MI5 has been raised at a meeting with the Northern Ireland Secretary.
Raymond Gilmour has claimed that after saving many British lives, he is living in constant fear of assassination.
His case was raised by a number of MPs following a report by BBC South East.
On Wednesday, politicians from the Democratic Unionist Party met Theresa Villiers to raise concerns about the treatment of former secret agents.
In a letter to her last month, they said they had concerns about "the lack of support provided to former agents who had infiltrated the IRA and other terrorist organisations on behalf of the Royal Ulster Constabulary and the security services".
'Resolve issues'
They wrote: "We are aware that a number of these agents have been relocated to Great Britain but it appears they have simply been abandoned without any significant financial support.
"We recognise that the dangerous work that they undertook on behalf of the state saved many lives and therefore it is our view that the state should offer them a greater level of support."
The letter was signed by Nigel Dodds, Jeffrey Donaldson, Gregory Campbell, William McCrea, Sammy Wilson, David Simpson, Ian Paisley Junior and Jim Shannon.
Following the meeting this week, the DUP members said they had made progress on the issues raised.
Mr Gilmour, who is from Derry and now lives in the South East, has lived under a false identity for 30 years.
In a statement on Thursday, he thanked the DUP for taking the issues to the Secretary of State, and said he hoped it would not take another 30 years to get a resolution for him and others in his position.
Ian Paisley Junior said he hoped the case could be resolved "expeditiously".
"I don't want to tie people to times but I think we've had long enough now and I think we now know what all of the issues are," he said.
"Let's resolve them."
Mr Gilmour is taking his case to the Investigatory Powers Tribunal, a body which examines complaints against the intelligence services.