Yachting superstar Marc Guillemot fined for sea breaches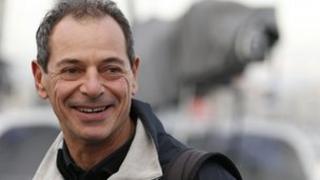 International racing yachtsman Marc Guillemot has been fined more than £9,000 for sailing the wrong way in the busy shipping lanes off the Kent coast.
Guillemot, 53, ignored warnings from coastguards, saying he was taking part in a speed record attempt, Southampton Magistrates' Court heard.
The skipper of French racing yacht Safran admitted two breaches of international maritime regulations.
He was fined £8,700 for the first, on 6 June and £666 for another the next day.
After the hearing, coastguard officials condemned Guillemot's "reckless" actions.
Kaimes Beasley, of Dover Coastguard, said: "He put his crew and other vessels at significant risk in order to try to beat his previous record."
The Maritime and Coastguard Agency said Guillemot's actions were the equivalent of driving in the wrong direction on a motorway.
Evasive action
The court heard that the Safran was en route from Lizard Point in Cornwall, attempting to break the round-Britain sailing speed record when it was spotted travelling in the wrong direction in the Dover Strait Traffic Separation Scheme (TSS) late at night on 6 June.
A few hours later, the following morning, it was seen sailing in the wrong lane in the nearby Sunk TSS.
The court was told several merchant ships had to alter course to avoid collision.
Guillemot's barrister, Julian Knowles QC, said the incidents were not "a deliberate flouting of rules by an arrogant yachtsman" but an error of judgment.
Guillemot is an internationally renowned racing yachtsman, who has set several titles and speed records, finishing third in his first participation in the prestigious Vendee Globe race in 2009.