Fracking: Balcombe campaigners prepare for new fight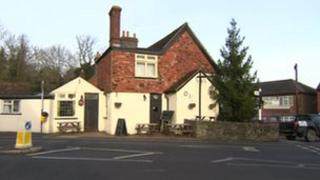 Campaigners say they are braced for a new fight against fracking plans in West Sussex as the government earmarks tax breaks for the shale-gas industry.
Chancellor George Osborne announced the tax incentives in his Autumn Statement, signalling the likely green light for exploration following a moratorium.
One area that may be targeted is Balcombe, near Haywards Heath.
One of the opponents, Kathryn McWhirter, said it was a "horrifying prospect, but one we were expecting".
She said: "Clearly [the government was] going that way. It is a very, very short-term choice. We really should be putting money into renewables."
The site already has planning permission for test drilling, although the company behind the plans, Cuadrilla Resources, says Balcombe is not in its current plans.
But campaigners who opposed the original application a year ago fear renewed efforts to target the area now that Mr Osborne has announced tax incentives - and the creation of a new government office - for shale gas.
A freeze on using the technique - which involves creating tiny explosions to shatter and crack hard shale rock to release the gas inside - in the UK was imposed following two small earthquakes in 2011 in north-west England, where Cuadrilla Resources has exploration drilling sites.
Process 'is safe'
A report commissioned by the company concluded that it was "highly probable" that the test drilling triggered the earth tremors in Lancashire, but that they were due to an "unusual combination of geology" at the site.
Environmentalists are also concerned about possible contamination of water supplies.
The government is considering an independent report on fracking, and the British Geological Survey is due to report on the UK's shale-gas resources early in the new year.
Cuadrilla insists the process is safe, but says it has no intention "at the moment" of drilling in the area south of the village, where it has permission to drill a borehole for oil and gas exploration.
And it says it will implement extensive measures to ensure there will be no more earth tremors.
Campaigners in east Kent are also opposing another company's plans to explore for gas on farmland near Sandwich.