Colne Community School pupils hurt as bus roof sheared off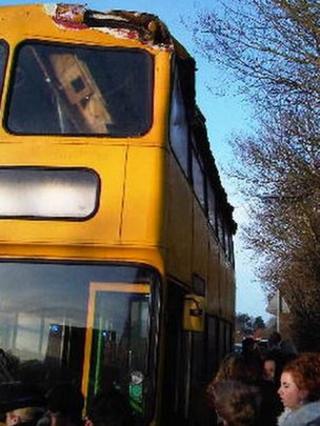 Four children were hurt when a vehicle trimming trees sliced into the roof of a double-decker school bus in Essex.
About 45 Colne Community College pupils were on the bus when it collided with a tractor-mounted trimmer in Alresford Road in Wivenhoe near Colchester.
The Essex County Council-contracted bus was on its way to the Brightlingsea school when the accident happened.
Paramedics compared the cut to the bus to that of a "can opener" and said four teenage students were treated.
Trevor Redburn, from the ambulance service, was at the scene shortly after the accident and saw the damage caused inside the bus.
"All the children were in shock," he said. "They were crying and quite confused and dazed by what had happened."
He told how other motorists stopped after the accident and made sure the children were safe and together on a nearby verge.
"It was very clear it could have been a very, very different job had the trimmer been lower," he said.
"The roof had been sheared off. I went into the bus and there was a lot of damage inside. There would have been very serious injuries if it had been lower."
'Lucky escape'
Those injured suffered cuts and bruises caused by glass and broken metal. Nobody needed hospital treatment.
The parents of those injured came and collected them, Mr Redburn said.
"It was quite a lucky escape," he said, "The cut went right along the nearside length of the bus. It goes right the way like a can opener."
Colne Community School and College said it was aware of the accident and confirmed some children had minor injuries.
Essex Police said it was not investigating the accident.
It is thought the tractor had its trimmer facing forwards and was moving towards the road when the accident happened.
Stephen Castle, cabinet member responsible for education, said: "The safety and wellbeing of all pupils is of utmost concern to us and this includes during the journey to and from school.
"Emergency services attended the scene promptly and the bus operator provided a replacement bus for all those students wishing to continue onto school."
Nobody from the bus company was available for comment.