Birmingham Bowmouth Guitar Shark captive breeding hopes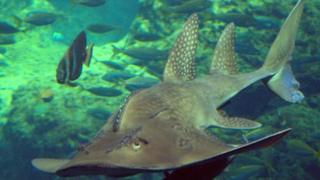 A female shark from an vulnerable species has been brought to Birmingham, where it is hoped she will breed with a male from the species.
The female Bowmouth Guitar Shark, known as Betty, has been moved from a sea life centre in Blackpool.
She has been placed in a tank at Birmingham Sea Life Centre, which has a male Bowmouth called Boris.
The centre hopes a breeding programme will provide stock for reintroduction into the wild if numbers fall further.
Betty has been moved while the glass windows of the ocean tank where she normally lives are replaced.
'Unsustainable" deaths
Graham Burrows, from Birmingham Sea Life Centre, said this gave an "ideal opportunity" to see if the two sharks would breed.
"There is always the remote chance that Boris will see her as competition and be aggressive towards her, but we're keeping our fingers crossed that things go well," he said.
The sea life centre said the Bowmouth shark has been assessed as "vulnerable" by the International Union for Conservation of Nature (IUCN).
Mr Burrows said the shark's large pectoral fins are greatly valued as food.
"Bowmouths also have sharp spines along their back which can do a lot of damage to other fish if it gets caught up with them in fishing nets and many fishermen regard them as a nuisance," he added.
The IUCN Shark Specialist Group has called for a ban on hunting sharks for their fins "throughout the world's oceans".
It believes the practice leads to "unsustainable" levels of shark deaths.