Urban shepherds keep watch over city flock at Christmas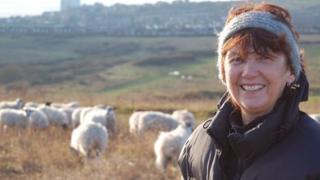 While grazing on a blustery chalk downland a flock of city sheep will be watched over this Christmas by a group of urban shepherds.
During the winter months Brighton and Hove City Council uses about 700 sheep on its open spaces to help maintain the downland.
They are looked after by volunteer shepherds, known as "lookerers", as they gradually graze their way around the city's fringes.
In a 21st Century twist they can be followed on Twitter and a live map of their whereabouts has been produced.
'Romanced by the idea'
With 120 lookerers on the rota and another 100 on a waiting list, Brighton park ranger Paul Gorringe said interest had been exceptional.
"A lot of people are simply romanced by the idea that we're doing this in the city," he said.
One of those is Jane Hawkins, a graphic designer, who said: "I'm stuck indoors at a computer all day - this is the antidote to that.
"It's a connection with nature and the changing of the seasons. This way I have the best of both worlds."
She has volunteered to look after the sheep on Christmas Day and said the festive link with shepherds had not been lost on her.
"My partner is one of the most urban people imaginable - he thinks that lookering is all mad," she said.
"But I emailed him at work and asked him whether he'd mind if I put my name down for Christmas. He responded instantly asking if he could come.
"It must be the old carol [While Shepherds Watched Their Flocks], but he was very taken with the idea."
A shift usually takes about half an hour and involves the lookerer checking the fences and making sure none of the sheep are either injured or ill.
The sheep, some of which are slaughtered for their meat, perform an important function by preventing the chalk downland from turning to scrub.
This allows rare insects and meadow flowers to thrive.
Livestock is also reared in Newcastle-upon-Tyne, where 600 cattle graze just a 10-minute walk away from St James' Park football stadium.
Kevin Batey, superintendent of Town Moor, said: "The city is unique because of it - people here respect and love what it brings, it's part of the city's history.
"There are people who dislike the space being used for grazing, but to us it's the lung of the city. It must remain actively grazed or else we'll lose it."
However, urban farming does not come without its dangers. On occasions the cows have escaped, forcing the closure of main roads.
And vandals have also damaged some of the fences and troughs.
One type of urban farming might have disappeared from Britain for good - the cow house.
In Liverpool during the 1800s and early 1900s some terraced houses were either built or converted to house cattle in their yards. Milk from these was sold locally.
The last cow house in Liverpool closed in 1975.
Duncan Scott, author of Urban Cowboys: Lost World of Doorstep Milk, said: "Cow houses would be unsustainable these days and could only return in a heritage capacity, like a living museum.
"The attraction in urban farming is that there's something about being in touch with living things, whether it's plants or animals.
"There's something about understanding, dimly at first, as to the way we connect with the seasons."