Autumn Statement: Relief over fuel duty but concern over fracking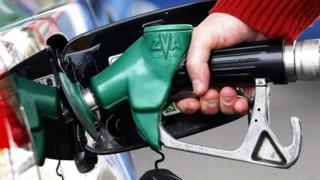 There's no doubt high fuel prices have been causing hardship for motorists in the South East.
Just last night BBC South East heard from a couple from Ramsgate who said they had been forced to sleep in their car because they could not afford to travel to hospital appointments in London twice in a 48-hour period.
We also spoke to Michelle English, a driving instructor from Shoreham, who said she was spending £300 a month on fuel and feared the planned 3p fuel duty increase in January would hit her business.
Campaigners lobbied hard over a potential petrol tax hike in the run up to the Autumn Statement and Labour also called for Chancellor George Osborne to delay the planned fuel duty increase for three months.
Neither were disappointed.
As always the chancellor wants to pull a rabbit out of the hat and at the end of his Autumn Statement he announced that rather than postponing the fuel duty increase he was cancelling it altogether.
He said that meant there will have been no increases in petrol taxes for two and a half years.
But before that final flourish first there was the gloomy news that there would more spending cuts across most Whitehall departments and people would only be able to invest £40,000 - not £50,000 - into their pension pots.
Affordable homes
Other South East specific measures in the statement included:
£223m to build more than 15,000 affordable rented homes
£15m to return about 960 empty properties to use in the South East and East
Business support measures for 767,000 small and medium enterprises in the South East
There was also good news for Brighton and Hove.
The chancellor announced that it would be one of 12 smaller cities to receive a share of £50m pot to pay for ultra-fast broadband, which many local leaders think is vital for the city to remain competitive in digital innovation.
Green Party MP for Brighton Pavilion Caroline Lucas welcomed the announcement and described it as a "well deserved boost for digital and creative sector".
She said Brighton and Hove had a digital sector that was growing twice as fast as the national average, one of the biggest and fastest in the UK.
It currently supports an estimated 23,600 jobs in the city and it is hoped today's announcement will help it to continue to grow.
However, Ms Lucas was very critical of Mr Osborne's plan to lower the cost of gas.
'Irrational obsession'
To do that he said he was setting up an Office for Unconventional Gas to ensure a "simplified and streamlined regulatory process" for the exploitation of shale gas in the UK through "fracking".
It's a hugely controversial issue. Plans by the drilling company Caudrilla to explore for oil or gas off the B2036, a mile from the centre of Balcombe village in Mid Sussex, have prompted strong local feelings.
In January Mark Miller, chief executive of Cuadrilla, said the company had no current plans to drill in West Sussex and was concentrating its efforts in the north west of England.
Green campaigners have also described the "dash for gas" as a "costly gamble".
But today's announcement by Mr Osborne, that the government is consulting on tax breaks for the unconventional fossil fuel, suggests an expansion of the fracking process could be in the pipeline.
Caroline Lucas said: "The Chancellor's new Office for Unconventional Gas and his proposed tax breaks for shale gas reveals the extent of this government's irrational obsession with hard-to-reach shale and with keeping the UK addicted to fossil fuels."
So as ever with the Autumn Statement the devil is in the detail. We had some headlines today but it was not immediately clear who the winners and losers were.
What we do know is that this budget is fiscally neutral so although the Chancellor may have found the money to cancel the fuel duty rise and to pay for ultra-fast broadband he will have to pay for that by increasing taxes elsewhere.