Another landslip hits coastline near Sidmouth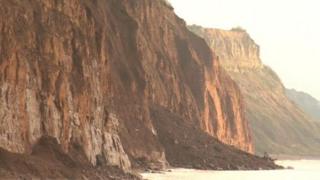 There has been a landslip at a cliff near Sidmouth.
It happened near Pennington Point, a short distance from the site of another landslip last week.
East Devon District Council (EDDC) said it had held talks with the Environment Agency and Devon County Council to assess the situation.
The council said the latest landslip was as a result of erosion from above after heavy rain, and not because of wave erosion below.
EDDC deputy cabinet member for environment Phil Twiss said it was "entirely predictable" given "the heavy falls of rain in recent months".
He said: "There is little that can be done to prevent this and other future falls when there is further penetration of water from above."
On Friday, a rain-soaked cliff top plunged about 100ft (30m) down to the beach.
At the weekend, South West Coast Path spokesman said heavy rain had led to several diversions on the coastal path around Devon and Cornwall after an "exceptional" amount of landslips in the past two weeks.
It warned walkers on the 600-mile route - from Minehead in Somerset to Poole in Dorset, via Devon and Cornwall - to beware of landslips and report any more.