Laser-projected bike light invented to improve safety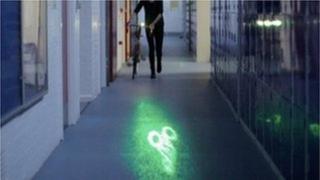 A university graduate has designed a bike light which projects an image of a bicycle on to the road to alert drivers
Emily Brooke, who studied product design at the University of Brighton, said she hopes it will save lives.
The 27-year-old, from Bath, worked with bus companies, road safety experts and a local authority to develop her idea.
It is called Blaze and uses a laser to project a bright green image five metres in front of the bike, in order to eliminate blind spots.
She said she thought of the idea after taking part in a charity cycle ride.
'Can't see me'
"At the time I was studying product design and for my final year project I chose urban cycling," she said.
"As part of the project, I studied the statistics for cycling accidents. And as I cycled around Brighton I thought to myself, 'that bus or van over there can't see me'."
Her product currently costs £60 and works either in a flashing or constant mode.
Ms Brooke, who graduated last year, has won a place on an entrepreneurial scholarship at Babson College, Massachusetts.