Roller derby 'ready to hit the mainstream'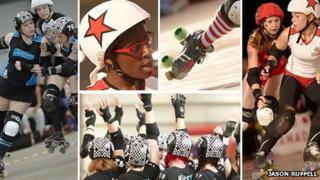 "Spiralling", "contagious", "everyone knows someone who is doing it".
If you believe the skaters, 2013 is going to be the year roller derby hits the mainstream.
The sport involves two teams on an oval track, each with a "jammer" who scores points by passing members of the opposing team - who do whatever they can to stop her, within reason.
It was created in the 1930s in the US but its popularity had faded by the 1970s.
It re-emerged in Texas in 2001 and there are currently more than 1,100 women's roller derby leagues around the world, including around 60 in England.
Amy Ruffell, a 30-year-old television producer who skates for London Rollergirls, says the sport has grown phenomenally since arriving in the UK in 2006.
'Silly clothes'
"I started five years ago," she said. "A friend asked if I wanted to see girls roll around on skates, and back then it was really easy to join, you just had to get your kit together, and someone would teach you the safety rules from the side of the track.
"But now we have hundreds of people on the waiting list to get into the recreational league."
The first roller derby world cup took place last year in Canada, with Team England coming third.
Ms Ruffell, known as Raw Heidi on the track, was part of the team.
She said: "Incredible. Skating on the national team... I don't think anyone would have predicted that for me, I wasn't the sportiest teenager.
"It was extraordinary seeing teams come together from across the world."
Wakey Wheeled Cats first took to the track in 2009, joining several other West Yorkshire leagues.
"When I started it was more about keeping fit, making up your fancy name and wearing silly clothes, but now it's more like a professional sport," said Danielle Millea, 32, who goes by the name Daneurysm when skating for the Wheeled Cats.
She said their priority for 2013 would be recruitment, as unlike the competitive London Rollergirls, there was no waiting list of potential skaters hoping to join.
"We need to show we're serious," she said.
"There are so many Yorkshire teams now it's a nightmare to recruit. There's two in Leeds, there's a new one in Barnsley, there's Hull, and lots more."
But Ms Millea said it was not something you could take up lightly.
"You've got to be dedicated," she said. "Teams train two, three, or four times a week, and you have to be on time."
Belinda Carlsen, or Slice Andice, has been heavily involved in the sport since joining the London Rollergirls in October 2006.
She said: "It was very different to the machine it is now. We pretty much had to learn everything via YouTube clips."
'Proper athletes'
Her weekly routine looks a lot like that of a professional athlete, but she has to fit it around a busy day job running clinical trials for pharmaceutical companies.
On Mondays, Wednesdays and Fridays she has a "heavy session in the gym", involving cross training and power lifting, then a "lighter workout" on Tuesdays and Thursdays, and roller derby training on Sundays.
"I sound like a jock," she said. "It's a long way from a bit of a skate-around in a hall twice a week. We've just grown into proper athletes."
Ms Carlsen was the first president of the UK Roller Derby Association, which successfully lobbied for roller derby to be recognised as a sport in the UK.
"Access to funding, while still difficult, is the biggest change since we became an officially recognised sport, a huge change," she said.
"We do attract cash sponsors, but it's still a struggle, and there are issues with cash sponsors of women's sport in general.
"One thing that hasn't changed though is access to venues. We still have problems, and we still have to explain what we are and what we do, and that we're not going to damage the hall."
Leagues are working hard to try to keep up the momentum and ensure the sport is here to stay.
Beth, 13, skates for the Lincolnshire Bombinos, a junior league for 11 to 17-year-olds. Her roller derby name is Heidi Clare War.
"My mum first found roller derby, and after seeing my first bout, I thought it would be an exciting, fun new hobby," Beth said.
"I believe it has made me more confident and I have made very good friends with my team-mates."
And she is hoping it becomes an Olympic sport in 2020.
"You learn to respect your refs, coaches and the team you are playing, as well as your own," she said.