Southsea's South Parade Pier open to buyers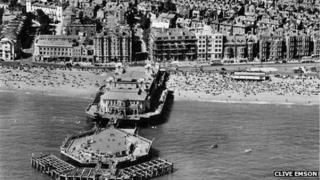 A Victorian pier which once hosted The Who is set to go under the hammer in Hampshire.
South Parade Pier in Southsea, Portsmouth will be on sale at an auction on Wednesday.
But who buys a pier and do they have a place in modern society?
Rob Marchant, from Clive Emson auctioneers, said interested parties had included an amusement arcade enthusiast and a current pier owner.
He described the Grade II listed structure as "a focal point of the local community", but admitted it was an unusual sale item.
"It's certainly the first pier I have ever auctioned," he said.
The most recent sale of a British pier was Blackpool's North Pier in Lancashire, in April 2011, for an undisclosed sum.
Peter Sedgewick bought it for his wife Sue after jokingly promising it to her 40 years previously.
Brother and sister Kerry and Michelle Michael bought Weston-super-Mare's Grand Pier in 2008.
"We had just sold a garden centre and were looking for another one to develop when we were introduced to the pier," said Ms Michael, a former lawyer.
"We spent many happy days there as children and thought it would be a wonderful asset to own."
Grand Pier was destroyed by fire six months after the Michaels bought it, but they reopened it in 2010 following a £39m revamp.
Opened in 1879 by Prince Edward, later King Edward VII, South Parade Pier has caught fire three times - once during the filming of The Who's rock opera Tommy in 1974.
The pier was also one of the launching points for British and Canadian troops embarking on the D-Day landings in Normandy in 1944.
"It is the last Victorian pier in Hampshire and is also a living part of the history of D-Day," said Leon Reis, chair of The People's Pier campaign group in Southsea.
"There are also people living in Portsmouth who were born because their parents met on South Parade Pier."
Mr Reis, who lives close to the pier, said the campaign group aims to "guarantee public access to a financially viable pier", and wants to assist the buyer in finding funding to cover restoration work, which it estimates at £2m.
Part of the pier was closed in October by Portsmouth City Council after a building survey showed the steelwork was "in danger of losing structural integrity".
The guide price for the pier, which has hosted rock concerts, wrestling tournaments and tattoo conventions, is £190,000 - £210,000.
Owned by Fred Nash and Dawn Randall, it has gone into administration twice in the past 18 months.
Anthony Wills, from the National Piers Society, said: "The key to any pier's success is continual maintenance and reinvention - enabling it to cater to society's changing tastes."
'Coastal heritage'
Of the UK's 55 piers, fewer than 10 are closed.
"The rest are successful to varying degrees," said Mr Wills.
He believes there is "absolutely" a future for piers in the UK.
He said: "Weston-super-Mare's Grand Pier refit has revitalised what was a rather run down resort.
"And Hastings Pier has just been awarded £11.4m in lottery funding.
"They are part of Britain's coastal heritage and are still held in great affection."
Mr Marchant agreed and said piers had "a special place in people's hearts".
Pier owners are described by Ms Michael as "custodians of the structure".
"We don't feel like Grand Pier is just ours," she said of herself and brother Kerry, "we're just looking after it for future generations."