Autumn Statement: A1 to be upgraded to motorway status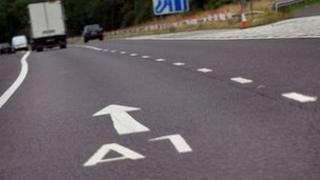 The upgrade of the A1 to motorway status between London and Newcastle is to be completed, the chancellor has said in his Autumn Statement.
Work on the 12-mile (19.3km) stretch between Leeming Bar and Barton in North Yorkshire will cost an estimated £314m.
Plans to complete the upgrade of the road were dropped in 2010 as part of cost-cutting measures.
A further £64m will be spent on upgrading the A1 at Lobley Hill, Gateshead, Tyneside.
The work, to begin in 2013/14, will transform the existing dual carriageway to a three-lane road.
John Weighell, Conservative leader of North Yorkshire County Council, said the news was welcome.
He added: "The council has been lobbying for these essential improvements to the major strategic highway through North Yorkshire and the North East.
"We believe the upgrade is a key to the economic prosperity of the region."