National Coal Mining Museum memorial garden planned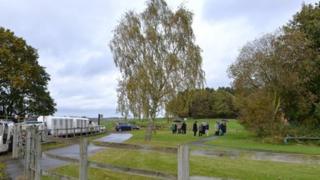 An appeal has been launched to create a memorial garden in West Yorkshire to those who died while mining.
The National Coal Mining Museum for England is to build a garden at the museum's Hope Pit at Caphouse Colliery, near Wakefield.
The memorial garden is due to open in summer 2014 as a place for quiet contemplation and reflection.
Katherine Morley, from the museum, said: "We exist to keep coal mining alive for future generations."
She said the garden would be a place for people to reflect on those lost in the mining industry.
"Working in it is a very dangerous activity," she added.
Mary Creagh, Labour MP for Wakefield, said: "The museum is the natural home for such a garden to remember the men, women and children who died underground."
She added the garden would also be a place to remember all the people hit by "crippling" lung diseases and the continuing industrial diseases associated with a mining career.
Strong community spirit
The museum has about 100,000 visitors annually and is looking at ideas for the design of a garden centrepiece.
At the appeal launch Dan Jarvis, Labour MP for Barnsley Central, said: "In Yorkshire, mining has been the fibre that has linked families, created friendships and is what many of our communities were built on.
"The community spirit in the former minefield areas is amongst the strongest I have ever known."
Ms Morley said despite the deep local connections with mining, many of the children who visited the museum "have no idea what coal looks like or what it does".
The museum is asking for donations and is looking for people who would like to help with the development of the garden.