Nottingham food-fear boy Daniel Harrison's future 'positive'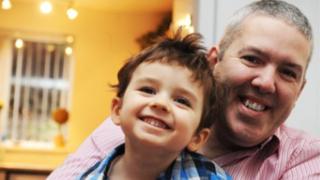 Kevin Harrison's darkest days came as he watched his young son wasting away - terrified of the food and drink that would keep him alive.
His son Daniel, six, from Nottingham, has a fear of consuming food thought to have been triggered by acid reflux.
The illness is caused by acid from the stomach leaking into the oesophagus and causing chest pain and nausea.
Daniel took breast milk as a baby, which neutralised the chemical, but the problem became apparent when he was introduced to whole food, later.
"He was taking a little rice for a week or so and some puree," said Mr Harrison.
"But once he started vomiting, the unwillingness to eat or drink was constant."
He added Daniel, who also has autism, must have realised drinking and eating was hurting him but he could not articulate this to his parents.
Daniel would become hysterical and would even self-harm, and later had to be fed through a tube in his stomach.
TV interest
Two years ago, about £25,000 was raised by his family to get Daniel treatment at a specialist clinic in Graz, Austria.
Following the first trip, he allowed his parents to feed him liquidised food orally.
It was a huge breakthrough but Mr Harrison was eager for Daniel to return to Austria to complete the treatment.
The programme, designed to encourage him to take both food and liquid, was a mixture of physiotherapy, occupational therapy, picnic role play, and swimming - to get Daniel used to having water on his face and lips.
The NHS agreed to fund further therapy, at a cost of £6,000, but his family had to pay for flights and accommodation.
On the first day back in Graz - 13 August - the Harrisons were filmed by a German TV crew, such has been the international interest in Daniel's story.
The doctors had realised Daniel was not only frightened of food but of spoons too, and much of their work was about getting him to trust them.
One wrong step and they would have to start all over again.
However, in the glare of the cameras something miraculous happened.
"Eva Kerschischnik (Daniel's therapist) kept tickling him with a spoon," said Mr Harrison.
'No more screaming'
"She then started feeding him his milk, mixed with baby rice, and he tolerated a couple of mouthfuls.
"Then she offered Daniel a chocolate lollipop and he bit a piece off. In nearly six years of his life, this was the first time he had bitten into anything.
"We could not believe our eyes, no more screaming, self-harm, tantrums. We were in tears."
Dr Kerschischnik, described as a "genius" by Mr Harrison, has since become Daniel's godmother and has visited the family in Nottingham.
Daniel has continued to make progress and now eats pureed food with lumps, and also drinks from a cup.
Mr Harrison said the year ahead is the first the family can look forward to for a long time.
"I want to raise awareness and reach out to families in a similar situation," he said. "We had no-one and we felt alone as [Daniel's] condition is so rare," he said.
"But things now feel a lot better."