Snow leads to crashes and delays in parts of UK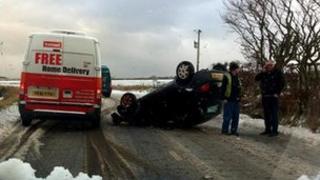 Snow has fallen in parts of southern England and north-eastern Scotland, causing accidents and delays.
Dozens of schools were closed in Aberdeenshire, Hertfordshire and Essex. And police in Essex say at least 10 people have been injured in 45 crashes.
Flights were delayed as Stansted and Luton Airports' runways temporarily shut while they were cleared of snow.
Meanwhile, the Met Office has issued an amber warning for snow for much of Scotland overnight into Thursday.
The series of alerts - covering the the period between 03:00 GMT and 11:00 GMT - warn people to be prepared for potentially treacherous conditions in Strathclyde, Grampian, the Highlands, the Western Isles, Tayside, Central and Fife.
Traffic Scotland, meanwhile, has warned of a high risk of disruption for most road journeys on Thursday with police advising that travel conditions will be "extremely poor".
Met Office yellow warnings - advising people to "be aware" of the danger of ice - are in place in parts of north-east England, Yorkshire and Humber, East Midlands, the east of England, and London and south-east England.
Highways Agency spokesman urged drivers to check local weather and travel advice before setting off, to heed warnings on electronic message signs and to drive "in an appropriate way for the conditions, leaving extra time for journeys and extra room for braking".
The BBC Weather Centre said the heavy snow that caused traffic problems on Wednesday morning had all but cleared.
There would be a widespread hard frost, with ice a hazard, on Wednesday night while snow expected for Scotland and northern England on Thursday morning would bring the potential for disruption.
The AA motoring organisation said it had attended nearly 5,000 breakdowns by 11:30 GMT with a peak, at about 08:00 GMT, of 1,300 an hour.
The Home Counties - especially Essex - had been particularly badly hit, it said.
Accidents and travel problems caused by the snow and ice include:
A number of mainline rail services and Tube trains were delayed in England on Wednesday morning but the situation had improved in some areas by the afternoon.
Delay warning
The runway at Stansted Airport was closed for two hours earlier while it was cleared of snow - leading to long queues and cancelled flights - before it reopened at 08:30 GMT.
An airport spokesman said there was 2in (5cm) of snow between 05:30 GMT and 06:20 GMT, but the forecast had predicted just under an inch of sleet.
Among the frustrated passengers at the airport were Steven Ingram, 56, and Stephen Allen, 49, from Watford, who were due to fly to Spain to watch Barcelona's match against Benfica on Wednesday evening.
"We were on board and ready to go and then were told we'd have to get off again," said Mr Ingram.
"The crazy thing was, we had to come back through passport control even though we hadn't gone anywhere.
"We've been queuing for several hours and we're still hoping we will get to Barcelona for the match tonight."
The runway at Luton Airport was also closed for a time earlier but had reopened at 08:00 GMT.
Runways at Manchester Airport were also closed for about half an hour from 07:45 GMT while they were cleared of ice, leading to some delays and diversions.
Newcastle and Aberdeen airports have also been hit by delays.
Passengers due to fly to all airports affected by the weather are advised to check flights with airlines before travelling and to allow extra time to get to airports.