Surrey GPs 'key to Epsom Hospital's future'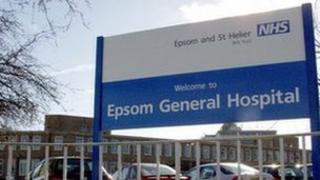 Talks will be held with local GPs over the future of services at Epsom Hospital, a council has said.
In October, NHS London agreed the proposed acquisition of Epsom Hospital by Ashford and St Peter's Hospital NHS, should halt for financial reasons.
Both Epsom and Surrey councils said this had brought back uncertainty about the future of Epsom hospital.
Epsom council said commissioning GPs were now key to the future of services provided at the hospital site.
'Have most influence'
Chairman of the council's health liaison panel, Councillor George Crawford, said the Surrey Downs Clinical Commissioning Group had been asked to come up with proposals for local acute health services by next February.
He said: "We will be asking for a meeting with the leading GPs to find out their views as they now seem to have the most influence on the long-term future for our hospital."
The council said no date for the meeting had yet been set.
Epsom Hospital is currently part of Epsom and St Helier NHS Trust.
The merger process began in 2011 after the trust was deemed unable to achieve foundation trust status alone.
The current trust is made up of Epsom, St Helier and Sutton hospitals, and Queen Mary's Hospital for Children.