Manston Airport high-speed railway link talks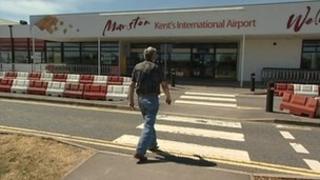 Plans to extend Kent's high-speed rail line from Ashford to Ramsgate have been discussed with a government minister.
Kent County Council (KCC) wants the line extended to cut the journey time to Manston Airport from London.
Council leader Paul Carter said the airport offered a "massive opportunity" to increase aviation capacity.
KCC has opposed plans for a Thames estuary airport and called for more use of regional airports and also Gatwick and Heathrow.
Mr Carter and Manston Airport's chief executive Charles Buchanan were holding talks with transport minister Simon Burns at the airport in east Kent on Wednesday.
Proposals for increased airport capacity in the South East have included the expansion of Gatwick and Heathrow and more use of regional airports.
'Proximity to London'
There have also been three different plans to build airports in the Thames estuary - a floating airport designed by architects Gensier, another plan known as Boris Island after it was backed by London mayor Boris Johnson, and proposals for a hub airport on the Isle of Grain designed by architect Norman Foster.
The plan backed by the London mayor has been developed into proposals for a five or six-runway hub, linked to Ebbsfleet station, called the London Jubilee International Airport.
Mr Carter said: "We want to very much promote the massive opportunity Manston Airport has in increasing the aviation capacity in the south east of England, remind the minister of its close proximity to London, explain the work we are doing with Network Rail to upgrade the railway line from Ashford to Ramsgate, and our plans for a new station at Manston."
He said he was delighted the transport minister was visiting the airport and added: "We've sent many invitations, including invitations to Boris Johnson, to come and have a look at Manston Airport and its potential and its physical location, to make sure the government writes Manston into the script as they review aviation capacity in the South East."