New Luton and Stansted runways not the answer say bosses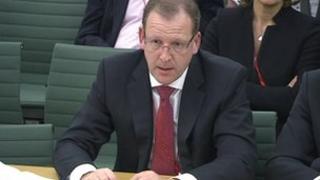 The heads of Luton and Stansted airports have assured MPs that they have no plans to build any more runways.
Nevertheless, they maintain that they do want to see their airports grow, so improved rail links are vital.
Glyn Jones and Nick Barton were giving evidence to the Transport Select Committee, which is currently looking into the whole issue of airport capacity and expansion.
They said that both airports could play a part in easing congestion in the south east but new runways were not the answer.
"We are blessed with fantastic infrastructure at Stansted," said Mr Barton. "The airport still has 50% of its capacity to be used.
"It's significant - about 17 million passengers per annum, which could be added to our through-put using the existing permissions and infrastructure."
Glyn Jones pointed out that Luton was already operating at 95% capacity but was actively trying to expand.
"We've just submitted a planning application to double the size of the airport," he said. " It would be completely private sector-funded and assuming we're granted consent in the normal timeframe, we would anticipate building it next year."
"So Luton can make an eight million passenger contribution, which doesn't change the world but it does give time for longer term solutions to be found."
That longer term solution is one, if not two, new runways in the South East.
Also giving evidence were the managing directors of Heathrow and Gatwick, who dominated the session, as they tried to argue the case for expansion at their airports.
Heathrow wants a third runway to maintain the airport's hub status, while Gatwick is now actively looking into building another runway at Gatwick.
Stansted and Luton said they want to concentrate on short haul, "point to point" and largely low-cost travel. Both accept they can't be hub airports.
But Gatwick's boss, Stewart Wingate (who used to be the MD at Stansted), told the committee he believed it would be good for capacity and competition if another runway was also built at Stansted.
Growth held back
"The vision we're painting is to have a second runway at Gatwick, which we think is a deliverable solution... and then in due course to have a second runway at Stansted," he said.
It also emerged from the airports' bosses evidence was a feeling that Luton and Stansted's growth is being held back by poor rail links.
Mr Barton revealed that one in six trains on the Stansted Express was delayed.
"We would like to see reliability initially improved markedly and we want to see the journey time reduced," he said. "It's currently a good service but we want to see it brought closer to London".
It currently takes around 50 minutes to travel along the congested line into Liverpool Street. The airport has just launched a Stansted In 30 campaign.
Glyn Jones said Luton wanted to see more passengers using public transport but complained that at the moment the rail companies did not regard airport passengers as important as commuters.
"We have three million passengers a year who aren't served by rail because the timetable is inadequate.
Ministers' reluctance
"We have one fast train an hour until 6 o'clock in the morning. The vast majority of our flights leave at 6 o'clock in the morning, so obviously we need to have the passengers there earlier than that."
Both airports are working with the government as it draws up the new rail franchise agreements.
Environmental groups also gave evidence to the committee. They questioned the need for any more expansion, pointing out that demand had fallen dramatically in recent years.
Brian Ross, from Stop Stansted Expansion, claimed there was now more runway capacity in the UK than in many European countries.
But the industry wants to grow and it feels it's being held back by ministers' reluctance to make any decisions. The government has launched a study into the issue but nothing concrete will be decided until after the next election.
For now Luton and Stansted, with their spare capacity, will be the main places for (limited) airport expansion.