Network Rail's level crossings get police cameras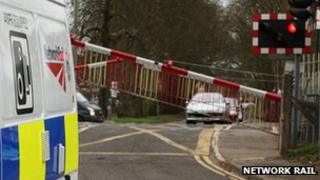 Mobile cameras are being introduced at railway crossings along Network Rail's western route to deter misuse.
A marked police van, fitted with nine number plate recognition cameras, will be used along the route from London Paddington to the West Country.
The route has 720 level crossings and cameras will be used regularly at those which experience "frequent misuse" by drivers and pedestrians, police say.
The technology will be launched at Shiplake in Oxfordshire later.
'Strong deterrent'
The scheme, which also covers crossings in Berkshire, Hampshire and Wiltshire, is funded by Network Rail and operated by British Transport Police.
Another twelve mobile camera vans are being deployed across the country.
Since 2009, there have been 44 reported incidents of misuse and 11 near misses with vehicles and pedestrians at Shiplake crossing.
"Jumping the lights and ignoring warning signs is sadly a sight we see all too often and can result in tragic outcomes," said Patrick Hallgate, from Network Rail.
"Most people who misuse level crossings know that they're breaking the law, but that doesn't seem to stop them."
He added the new camera vans would act as a "strong deterrent".
Half-barriers are set to be installed at Shiplake crossing by the end of March next year.
Network Rail is investing £130m nationwide to upgrade or close level crossings. Since 2009 more than 600 have been closed.