David Beckham London 2012 Olympic torch boat fails to sell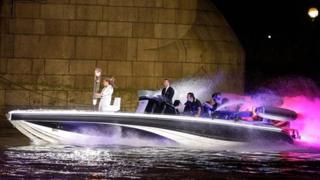 The speedboat David Beckham used to carry the Olympic torch up the River Thames to the Olympic Park has failed to reach its reserve price at auction.
Beckham, watched by a global audience, piloted the Bladerunner RIB 35 craft down the river and under Tower Bridge during the opening ceremony on 27 July.
It was expected to fetch up to £250,000 but the highest bid was £180,000.
At the same auction in Surrey, a museum in Norfolk paid £63,100 for L/Cpl Jones's butcher's van from Dad's Army.
Auctioneers Bonhams put the items under the hammer at Brooklands in Weybridge.
It said the speedboat had been stripped of its "Olympic paraphernalia" but retained its torchbearer seat and the four fake rockets used to emit smoke as the craft made its way from City Hall to the stadium.
'Insufficient interest'
Spokesman Julian Roup said the pre-sale estimate was between £150,000 and £250,000. The reserved price has not been disclosed.
"It was a very busy sale but the item was fairly highly priced and there was insufficient interest on the day," he said.
"It may sell in a post-sale deal."
The boat was built in 2007 by Hampshire-based ICE Marine and tested at a nature reserve on the River Hamble estuary prior to the opening ceremony.
The Dad's Army Museum in Thetford - the town which provided the setting for the popular BBC comedy - said it was "ecstatic" to get the 1935 Ford box van used by L/Cpl Jones.
"Jonesy" - whose catchphrase was "don't panic" - was played by Clive Dunn, who died in November aged 92.
The butcher's van fetched more than double its predicted sale price of £30,000.
Museum chairman Stuart Wright said two local people, who did not want to be named, provided the funds to buy the vehicle.
"Now we have got to do the fundraising to repay our backers," he said.
"We have made some bids for grants and hope that other Dad's Army fans might help us out. We will be grateful for all donations, however big or small."
Mr Wright said he hoped to repay the loans within five years.
The Dad's Army Museum does not have room to display the van at its own premises at Theftford Guildhall but it will be on show to the public from next Easter at the nearby Charles Burrell Museum.