Feathers' DNA tested in Cornwall to sex Devon Inca Terns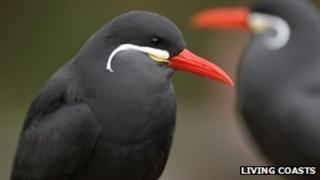 The feathers of a monomorphic species of bird in Devon have been DNA tested because humans are unable to tell the sexes apart.
Male and female Inca Terns, which have a red beak and white moustache, can only be told apart by DNA as they look and behave in the same way.
The feathers plucked from 25 birds at Living Coasts in Torquay were tested by Avian Biotech, based in Truro.
The results showed a split of 70% males to 30% females from this year's young.
'Breeding mix'
Clare Rugg, from Living Coasts, said: "You have to pluck that feather directly from the bird so that you know for sure which one it has come from.
"We take three or four feathers from each bird, put them in a clear, sealed, labelled bag and send it away to Avian Biotech in Cornwall."
Inca Terns fly freely under a 50,000 cubic metre canopy at Living Coasts, a coastal zoo and aquarium.
Ms Rugg added: "It's about managing the flock properly, having the right sex ratio and making sure the breeding mix is good, so that no birds become over-represented genetically."