North West security vans offered armed police escort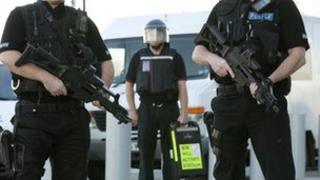 Security vans carrying cash to shops and banks in the run-up to Christmas are being offered armed escorts.
Police forces from across north west England have teamed up to crack down on cash-in-transit robberies and thefts from cash machines.
High-visibility and covert police patrols will escort the security vans as they make their deliveries.
All cash containers will include either Smartwater or dye, which is released when they are opened illegally.
Smartwater is a liquid that is invisible to the naked eye but can be seen with a UV light.
It cannot be washed off and has a unique code registered to the property it is used on.
'Swiftly caught'
Police will also be monitoring CCTV from areas where cash deliveries are being made.
A similar campaign last December led to a dramatic drop in the number of cash-in-transit robberies in the region.
Titan, the North West Regional Organised Crime Unit which is behind the campaign, will be covering Greater Manchester, Merseyside, Cheshire, Lancashire, Cumbria and North Wales.
The British Security Industry Association, SaferCash and other partner agencies will also be supporting the campaign.
Det Supt John Lyons, of Titan, said: "The region has seen a significant fall in cash-in-transit robberies in recent years but we are not complacent and we are determined to make sure that criminals continue to not see these types of offences as easy ways to make money.
"While there has been a drop in the number of cash-in-transit robberies there has been a shift towards criminals targeting cash machines across the region so we will also be concentrating our efforts on ensuring these are secure and those who try to tamper with them are swiftly caught."