Road and path warnings in Devon and Cornwall after floods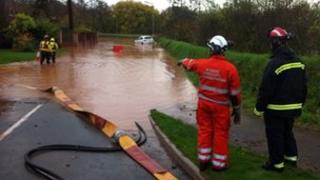 People who use smaller roads, beaches and coastal paths in Devon and Cornwall are being urged to take care over the weekend because of damage caused by floods.
Damage included fallen trees, unstable banks and cliff edges, and landslips on roads and coastal footpaths in a number of areas, Cornwall Council said.
Rain had also increased river levels, leaving them fast-flowing.
Agencies have been working to address the issues, the spokesman said.
Health warning
Beach users in Cornwall have also been warned about bathing water quality following the recent heavy rain.
Surface run-off from agricultural land and overflow from drainage could reduce the quality of many streams across the county, the council said.
The authority's public health team said people should particularly avoid two streams crossing Perranporth beach.
Anyone who came into contact with that stream water should avoid hand-to-mouth contact and wash their hands after.