Jailed SAS man Danny Nightingale 'missed family'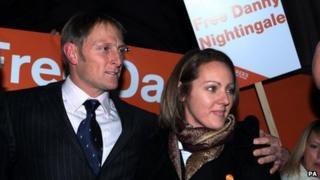 SAS soldier Sgt Danny Nightingale became the centre of massive news story when he was to serve 18 months in a military jail for possession of a gun and 338 rounds of ammunition he says he was given the gun as a present in Iraq.
"The hardest part is not being with the family - when you go away with work you know you're going, you know you're coming back and you know the end date - not knowing that end date was the hardest thing really," he said.
He was sentenced to serve 18 months after pleading guilty at a court martial earlier this month to illegally possessing a 9mm Glock pistol and ammunition, which were found by West Mercia Police at his Army accommodation near Hereford.
Appeal judges, who heard Nightingale had forgotten he had the gun, cut his sentence to 12 months and suspended it.
'Proudest day'
His wife Sally said she had had a "very hectic three weeks" but that it was "worth it" for the Court of Appeal result.
"I was trying to juggle being a mum and look after two children and a house but also we needed to do so much to get Danny's freedom," the 38-year-old said.
Mrs Nightingale said while the appeal was ongoing they had deliberately not told their two children that their father was in jail.
"Unfortunately yesterday my mum switched on the television and there was Danny's picture with saying 'SAS hero jailed'.
"Our daughter turned around to grandma and said 'Is my daddy in prison?' and she just said 'No love, he's not'.
"She's asked no more questions - she just knows daddy's home."
Nightingale, who served in war zones such as Afghanistan and Iraq, said he spent much of his time in detention reading and answering letters from the public.
He said he has not given up on the idea of returning to the SAS and his feelings towards the military "haven't changed at all".
"The proudest day of my life was when I walked into that establishment [the SAS]," he said.
Lawyers for Nightingale put in an application for an appeal to overturn his convictions last week.
They said they expected a date to be set soon for that hearing.