Zoey Peace's blog makes Camp Bastion troops smile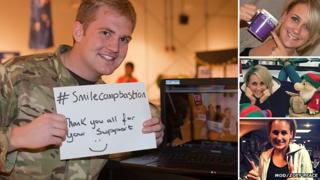 It started as a personal blog created as a way to stay positive while her soldier boyfriend spent six months in Afghanistan.
But Zoey Peace's internet musings charting life at home without Cpl Sam Garwood attracts up to 11,000 visitors a day.
With Until February, the 26-year-old explores the ups and downs of being "an unconventional army girlfriend".
Ms Peace, from Cambridgeshire, said she wanted to stay close to Cpl Garwood, from Long Stratton, Norfolk, after he was deployed on his second tour of Afghanistan with the 29 Regiment Royal Logistic Corps (RLC) last month.
She said: "The blog has touched a lot of army girlfriends and wives.
"Sam loves what he does, it's what he trains for and I'm happy for him to be going out there on tour.
"I said I was going to write a blog to keep him laughing, do something for charity and keep me busy and it's just spiralled from there."
The Help for Heroes forces charity promoted her work on Twitter, helping it get more than 11,000 average daily views.
Now, Ms Peace has set her sights on cheering up the troops over Christmas with a campaign in which friends, families and growing band of celebrities are photographed with a sign saying Smile Camp Bastion.
Presenters Ant and Dec, Lorraine Kelly, rugby player Lewis Moody and Paralympic gold medallist Jonnie Peacock have already lent their support.
Football aim
"I've got more than 40 celebrities who've tweeted images of themselves, including one of forces sweetheart Katherine Jenkins, but the boys will have to wait to see that," said Ms Peace.
"My main priority is now to get the entire Norwich Football team to tweet me a picture.
"The blog is my way of coping. I'm not one to write my memoirs or cry in to a notepad, but the blog really helps.
"I live three hours from Sam's base in Bath and an hour away from his family in Norfolk, so it's my way of staying connected to his life.
"It keeps me positive, it makes sure I do interesting things everyday to blog about and it offers support for other wives and girlfriends in a similar situation."
The internet has always played a strong part in the couple's relationship since they met on a dating website in March.
"It only took a couple of messages and we chatted non-stop," said Ms Peace.
"We met a few days later and it was like we're kindred spirits. He's just so funny and cheeky. We have really similar outlooks and aspirations."
Speaking to the BBC from Camp Bastion on Saturday, Cpl Garwood said: "It's great that this is helping other people as well as me. I'm really proud of Zoey for setting it up."
Ms Peace said she does not intend to join a Military Wives choir as part of her blogging adventures.
"I'd never plan to join a choir, I wouldn't want to inflict my voice on them," she said. "Anyway, I'm not a military wife - yet."