Danny Nightingale 'justice fight goes on'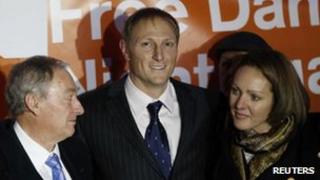 The father of an SAS soldier released from military detention after an appeal says the family is now determined to get the conviction overturned.
Sgt Danny Nightingale, from Crewe, was sentenced to 18 months after admitting possessing a 9mm Glock pistol and 338 rounds of live ammunition.
At Thursday's appeal, judges reduced it to a 12-month suspended sentence.
Humphrey Nightingale said the family was now meeting their lawyers to press ahead with clearing his son's name.
The soldier was detained earlier this month after pleading guilty to the charges at a court martial.
West Mercia Police had found the gun and the ammunition in the soldier's Hereford accommodation - but his supporters said he had forgotten he had them after suffering a brain injury.
'Absolutely overjoyed'
The sniper's family and friends had argued he only pleaded guilty at the court martial after being warned he could face up to five years' detention if found guilty in a trial.
Nightingale had said he was given the gun as a present from soldiers he was training in Iraq.
His father said the family was "absolutely overjoyed that justice has prevailed" but were determined to clear the soldier's name.
Humphrey Nightingale said: "The first goal for us was to get him out and back with his family and we've achieved that, thanks to all the support we've had from the general public.
"Now our next thing is to meet with our legal team and we will be looking at the appeal against the conviction.
"We're still very hopeful. We're not just going to lie down, we want to get justice on all accounts.
"The whole thing has been just a huge disgrace."
The appeal panel on Thursday said it was satisfied that the sentence could be reduced because the offences were "committed in exceptional circumstances by an exceptional soldier".
Lawyers for Nightingale put in an application for an appeal to overturn his convictions last week.
They said they expected a date to be set soon for that hearing.