Charles Organ hospital compensation deal 'hollow victory'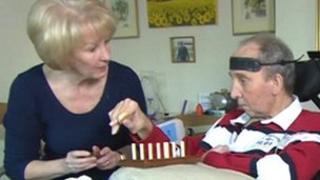 The wife of a man left severely brain damaged because of botched medical treatment has described a multimillion-pound payout as a "hollow victory".
Charles Organ, 62, of Coulsdon, London, suffered a head injury during the London to Brighton cycle race in 2007.
He was initially treated in Brighton before being transferred to Charing Cross Hospital where he suffered a "catastrophic brain haemorrhage".
The Imperial College Healthcare NHS Trust has apologised for its failings.
Mr Organ was awarded £2.35m in damages at the High Court on Wednesday, plus annual payments of £300,000 to cover his day-to-day care.
The trust admitted negligence over its "second decision to administer anti-coagulants" to thin his blood when it was dangerous to do so.
The haemorrhage left Mr Organ unable to walk, talk, eat or drink. Before the incident he ran a successful fisheries business.
His wife, Susan, said: "It is kind of a hollow victory because no amount of compensation will replace or repair Charles and what's happened to him.
"I am relieved now because we can move forward."
She added: "We've lost a very wonderful member of the family and we now have a new member of the family with the same heart but we have to try and bring as much back of the old Charles as we can."
A spokeswoman for Imperial College Healthcare NHS Trust said: "The trust is very sorry for the failings in Mr Organ's care.
"We are pleased that the settlement has been approved by the court and hope the damages Mr Organ will receive will ensure that he has the best possible care in the future."
Mr Organ's solicitor, Neil Elliott, said: "I am very, very pleased for Charles and his wife.
"The award itself is one of the biggest of its type ever awarded in the country and it will make a huge difference to Charles and his wife."