A14 Cambridgeshire: lower toll favoured by study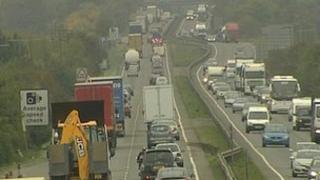 The latest study into a planned £1.5bn scheme to upgrade the A14 in Cambridgeshire favours a lower toll than previously proposed.
The consultant's report said halving the charge to £1 for cars and £2 for lorries would reduce the number of drivers diverting to local free roads.
Critics said they were still not convinced tolling was an alternative to paying for the scheme using taxes.
The government said tolling would make a significant contribution.
The Department for Transport (DfT) has said work on the road was unlikely to start before 2018.
The study by Atkins engineering consultants said higher charges of £2 for cars and £4 for lorries would make it "increasingly difficult" to discourage drivers from diverting off a toll road.
New local roads
Councillor Graham Wilson, who represents Huntingdon and Godmanchester on Cambridgeshire County Council, said: "The toll needs to be very low to stop people using local roads as rat-runs but if the toll is very low, then it isn't going to generate as much money.
"Funding the road through general taxation is better than doing it through a toll system.
"An untolled A14 will protect local villages [from drivers seeking to avoid tolls], so the detail of how the toll works really needs looking at carefully."
The scheme aims to reduce congestion on a 20 mile (32km) stretch of the A14 between Cambridge and Huntingdon.
The road links the container port at Felixstowe in Suffolk with the M1 and M6 motorways via Cambridgeshire and Northamptonshire.
The latest option suggests creating a three-lane Huntingdon Southern Bypass between Trinity Foot near St Ives and Ellington near the A1.
It would also include downgrading the existing Huntingdon A14 viaduct from a trunk road and providing two new roads for local traffic between Trinity Foot and a new Girton interchange.
Policing HGVs
The DfT spokesman said with the lower toll a "relatively small amount" of 8% of vehicles would leave the new bypass to avoid a toll.
"With tolling, the cost to the taxpayer is lower," the spokesman said.
"Tolls are likely to provide only a minority of the funding that would be necessary, with the majority coming from central government and local partners."
Jonathan Djanogly, Conservative MP for Huntingdon, said it was important "there remains a good non-paying road on the A14 route for local traffic to use".
"I am also concerned that local roads should not be subject to HGVs diverting to avoid the tolls," he said.
"However, I thought that this was more a question of policing weight restrictions rather than toll price."
The government estimates tolling at the £1/£2 level would raise £33.1m a year by 2031 (at 2011 prices).
The DfT said it now had seven options to consider.