Nick Griffin: No action over B&B gay couple tweet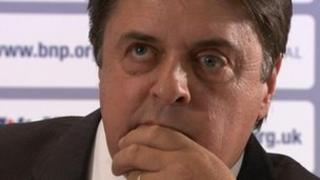 BNP leader Nick Griffin will not face any action after he put the address of a gay couple who won a landmark court ruling on Twitter.
A court ruled Berkshire B&B owner had discriminated against Michael Black and John Morgan when she turned them away.
Mr Griffin had urged his Twitter followers to hold a demonstration following the judgement in October, but police this week dropped the case.
The Christian guest house owner has now lodged an appeal to be heard next year.
A spokesperson for Cambridgeshire Police said: "Following a police investigation and advice from the Crown Prosecution Service no criminal offences were identified."
Mr Black told BBC News the couple, who had a police presence at their home for several days, were not overly concerned about Mr Griffin's tweets.
"In the end we decided not to make a formal complaint," he added.
'Right to discriminate'
"The tweet was only up for a short time, it did not give a specific time... and nobody came."
A spokesman for the BNP said Mr Griffin had "police pounding on his door" at midnight on the night the tweets were sent.
He added: "There was obviously no offence. I think he was just figuratively speaking."
At the time Mr Griffin said people have the "right to discriminate".
Mr Black and Mr Morgan, from Brampton, Cambridgeshire, were each awarded £1,800 after Susanne Wilkinson refused to let them stay in a room with a double bed at her Cookham guest house in March 2010.
The case was heard at Reading Crown Court where Recorder Claire Moulder said Mrs Wilkinson had "treated them less favourably than she would treat unmarried heterosexual couples in the same circumstances".
However, she accepted that Mrs Wilkinson was genuine about her Christian beliefs and had also stopped unmarried heterosexual couples from sharing a double bed.
It comes as a similar case in Cornwall awaits a Supreme Court hearing.
Peter and Hazelmary Bull, the Christian owners of a guesthouse in Marazion who also turned away a gay couple, have won permission to appeal against their ruling.
Mr Black and Mr Morgan's case will be heard at the Court of Appeal between April and July next year.
Mr Black said: "I understand their barrister is trying to get [the case] dealt with early and get it put with the Cornish one at the Supreme Court.
"Of course there is the possibility of being overturned but we are pretty confident that we will win."
The Christian Institute, which is funding legal costs for both cases, said: "Religious freedom is vital to a healthy democracy, but it has been increasingly under attack in recent years.
"We support Susanne Wilkinson as she takes forward her appeal."